Welcome to the 18th Conference on Sheet Metal
The organisers of SheMet 2019 are pleased to announce the 18th edition of this 2-yearly International Conference on Sheet Metal which will be held in Leuven. The conference will be hosted by the Department of Mechanical Engineering of KU Leuven on 15 till 17 April 2019.
The aim of the conference is to provide a forum for researchers, academics and industrialists to discuss and promote both early dissemination of research results and technology transfer in sheet metal processing. It will provide an opportunity for those working on experimental research and development as well as those involved in analytical and numerical modeling to present their recorded work.
Conference History
The multiple facets of modern sheet metal manufacturing techniques are applied throughout a wide spectrum of economy, ranging from the automotive industry and machine manufacturing to electrical engineering and electronics. This wide range of applications means that sheet metal manufacturers produce parts from a few grams up to 1,000 kg and more, from electrotechnical parts up to components in automotive industry, as well as batch sizes ranging from just at a few pieces to mass production. Worldwide, around 12,300 companies employing 600,000 workers produce sheet metal goods worth over 732 billion US dollars (all numbers reflect the situation in 1999). These are impressive numbers for sheet metal manufacturing, to which forming processes are central, but also for cutting and joining technologies with their increasing importance. All of these processes have developed dynamically in the recent past, and this trend will no doubt continue. The automotive industry is the main impetus worldwide for new developments as is seen in its efforts to optimize lightweight constructions. Basic research at universities has been instrumental in promoting new developments through a better understanding of materials and processes. As we are standing at the very beginning of a new millennium, a new achievement profile for the sheet metal industry is emerging which will foster a fast and economical product development process.
One such interdisciplinary arena is promoting the close cooperation between material scientists, technologists, manufacturing engineers and computer scientists in academia and industry. This cooperation is supported by the SheMet conference Series, which was founded in Birmingham, England, in 1993, and since has been hosted in yearly rotation by the University of Central England in Birmingham, the University of Ulster at Jordanstown, Northern Ireland, the University of Twente in the Netherlands, the Institute of Manufacturing Technology of the Friedrich-Alexander-Universität Erlangen-Nürnberg, Germany.
From 2001 onward, the conference has moved to a biennial schedule, furthermore the KU Leuven, Belgium and the University of Palermo, Italy have joined the group of organizers whereas the University of Twente and Birmingham City University have stopped hosting the conference.
SheMet 2019 is the 18th edition in a series of 2-yearly international scientific meetings on Sheet Metal. The previous editions were organized in Erlangen and Palermo.
Papers are invited from prospective authors from industry, universities and research laboratories. Papers dealing with the following topics will be considered: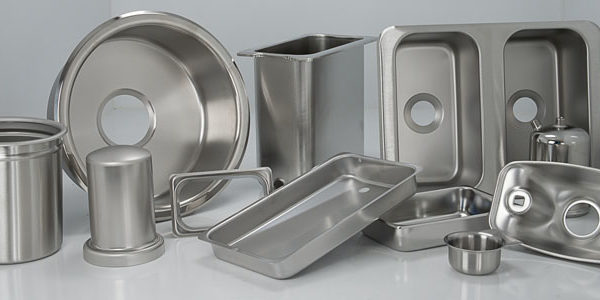 Processes
Incremental forming, blanking, piercing, punching, cropping, drawing, strip and wire drawing, deep drawing, sheet bending and levelling, explosive forming, hydroforming, laser forming, tube forming, powder forming, spray forming, coil production, combined processes and super plastic forming.
Presses and Press Tools
Design, protection, modelling, manufacturing material, lubrication, progressive tooling, robotics, compound and combination dies.
Cutting and Joining
Laser and other cutting methods, laser welding, other welding, adhesive bonding.
Materials and Testing
Ferrous and non-ferrous materials, high performance materials, composites, materials testing.
Modelling Techniques
Analytical techniques using plastic theory, constitutive models, finite element method, boundary element method, physical modelling .
Process and Production Planning
Strategies, methods, optimization techniques computer support, cost calculation.
Manufacturing Systems
Intelligent processing of materials, sensing and control of forming processes, CAM systems, FMS and CIM, logistics, management and economics.
Life Cycle Aspects
Environmental issues, sustainable technology, pro- duct information structures, DFX.
Condition Monitoring and Diagnostics
Maintenance, NDT/NDE, tool wear and process monitoring, diagnostic techniques, vision, ultrasonics.
Quality and Reliability
Standards, tolerancing, metrology, SPC, total quality management.
Surface Conditioning
Surface treatment of strip, design consideration for fabrication of pre-treated/coated materials.
Micro Technologies
Plastic theory, physical modelling, stamping, blanking, bending, laser welding, other welding, laser soldering, laser drilling, manufacturing of lead frames.
If you want to stay informed, or want to give suggestions, please do not hesitate to contact us using following form:
SheMet2019 is being organized by KU Leuven in collaboration with FAU, University of Palermo and University of Ulster 
Prof. Joost Duflou (KU Leuven, BE, chair)
PD Dr.-Ing. Hinnerk Hagenah (FAU, DE)
Prof. Marion Merklein (FAU, DE)
Prof. Livan Fratini (University of Palermo, IT)
Prof. Fabrizio Micari (University of Palermo, IT)
Dr. Alan Leacock (University of Ulster, UK)
Ir. Yannick Carette (KU Leuven, BE)
Dr. Ir. Gonçalo Afonso Da Costa Rodrigues (KU Leuven, BE)
Ing. Hans Vanhove (KU Leuven, BE)
Dr. Ir. Vitalii Vorkov (KU Leuven, BE)
Evy Neyens (KU Leuven, BE)
Kristel De Reymaeker (KU Leuven, BE)
Jana Slegers (KU Leuven, BE)
Anja Vansteenwegen (KU Leuven, BE)
More information coming soon
The conference will be held at:
KU Leuven
Campus Group T
Andreas Vesaliusstraat 13
3000 Leuven, Belgium
For the duration of the conference we have reserved a contingent of rooms at special rates in selected hotels in Leuven. For room reservations please contact the reception of the hotel directly (contact details below) and make sure to state the booking code or use the reservation form which is provided to take advantage of the special conditions for this event.
Travel by plane
Brussels Airport - Leuven
The nearest international airport is Brussels Airport (Airport code: BRU), about 30 km away from Leuven. From this point you could choose different further transport to reach KU Leuven, campus Groep T - Leuven.
by rent-a-car: The trip from Brussels Airport to Leuven takes about 30 minutes.
by train: There is a railway station in the airport with a direct connection to Leuven (or Louvain). The trip takes about 20 minutes. (Leuven (or Louvain) is not "Louvain-la-neuve", which is another city.) - www.nmbs.be
by taxi: You could take a taxi directly from the airport, in front of the arrival doors, the trip takes about 30 minutes by car. (Taxi Airport-Leuven "Taxi Axi" (+32) 471 80 70 70 or info@taxileuven.net).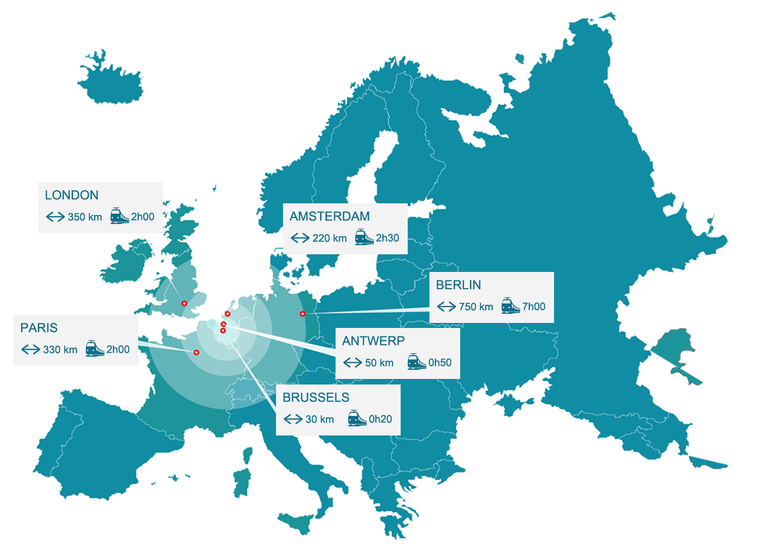 Travel by train
The main international railway station in Belgium is Brussel-Zuid/Bruxelles-Midi. From here, the trip to Leuven takes about 30 minutes (direction Liège or Genk) - www.b-europe.com
Travel by car
The venue of the Conference is KU Leuven, campus Groep T - Leuven, Andreas Vesaliusstraat 13, 3000 Leuven. Parking is possible at Parking Ladeuze (ladeuzeplein, Leuven). From here, it's a 7 minutes walk to the conference venue.
Be careful: the traffic situation in the city center of Leuven has drastically changed recently, don't use your GPS system.
Whether it is the peace and tranquillity of the béguinage, listed as World Heritage by UNESCO, one of the numerous beer cellars of the Old Market, or the restaurants around the famous Town Hall, the city of Leuven has a lot to offer. After 580 years as a university town, Leuven still attracts the Flemish youth and nurtures it on wisdom, erudition and broad mindedness.
Leuven is located in the center of Belgium only 30km from Brussels and 20km from Brussels Airport.
Climate
Belgium has a temperate continental climate. Summer temperatures: around 25° C (77° F) to 35° C (95° F). Winter temperatures: dropping below 0° C (14° F).
Language
Leuven is located in Vlaanderen (Flanders), where the official language is Dutch. In Brussels, most people speak French, as in the southern part of Belgium, Wallonië.  However, it shouldn't be a problem to approach anybody in English since it is a third language for a lot of people.
Population

Belgium: 11 million people
Brussels (capital of Belgium): 1.2 million people
Leuven: 100,000 people

Currency

The official currency of Belgium is Euro (EUR, €). Therewith, Belgium belongs to the 23 European countries that use the common European currency.
Time Zone
UTC/GMT +1 hour is the standard time zone in Belgium. Daylight saving time starts end of March until end of October. In this period the time zone differs from the standard: UTC/GMT +2 hours.

Time and weather information can be found here: www.timeanddate.com/worldclock

Power and Electrical Plugs
Electricity is 220-230V, 50 Hz. Belgian plugs have two round pins.
Calling Codes
Belgium country code : +32 (or 00 32)
Leuven: +32 (0)16
Emergency Numbers
European emergency number: 112
Pharmacy
Apopark
Address: Tiensestraat 81, 3000 Leuven (close to the Campus)
Phone: 016/22.20.48; Web: http://www.aposite.be/11520/
Opening hours: Mo - Fr: 8.30 am - 18.00 pm, Sa 8.30 am to noon.
Store Opening Hours
The opening hours of shops vary in Belgium. Mostly though, the opening hours during the week are Monday – Saturday, from 10:00 am - 18:00 pm.
Smoking
No smoking at public places (e.g. airports, train stations, schools, universities, restaurants, bars and cafes, government administration buildings) and on public transport (e.g. trains).
October 14th, 2018  -  Full paper submission extended deadline

November 15th, 2018 onwards -  Review feedback

December 15th, 2018  -  Revised paper submission deadline
January 15th, 2019  -  Author registration and early bird registration deadline
March 15th,   2019  -  Online registration deadline
April 15th-17th, 2019  - Conference in Leuven, Belgium
The abstract should contain a maximum of 250 words.
If your abstract gets accepted, a paper submission will be automatically created. It is then possible to change the contribution details and upload your paper.
The paper should contain minimum 4 and maximum 8 pages and should be submitted in pdf format before September, 30th 2018. The templates are found here: Paper template pdf, Paper template doc.
After the review round, a camera ready paper needs to be submitted before December, 15th 2018.
The camera ready paper needs to be uploaded in both pdf and doc/docx formats.
Presentations will only be scheduled in the final programme and published in the conference proceedings after registration and payment of the conference fee by at least one co-author. Each delegate can be presenting author of maximum one papers.
Besides the full paper option, for which the regular review procedure applies, there is also the option to present your R&D achievements as an 'Industrial Communication' presentation during the conference.  In that case we ask you to submit an abstract with the content description for the contribution you intend to present in order to allow scope compliance assurance. No full paper will be requested, but a presentation can be scheduled in the conference program labeled as  'industrial communication'.
To mark your abstract as industrial communication, please check the appropriate check box in the abstract submission form.
For any problems occurring during the user account creation, submission or registration process, please consult this guide or contact the organizers at shemet2019@conftool.com
The papers accepted for SheMet 2019 will be published through Procedia Manufacturing (Elsevier), which is listed by Web Of Science. These proceedings will be available online for all participants to the conference. Furthermore the Open Access publication will assure maximum visibility toward the broad public, thus optimizing citations in the long run.  Condition for inclusion in the proceedings is that at least one of the authors is registered for the conference in due time.
Registration is now open: you can reach the registration module via the link below.  If not yet registered as an author, you will be asked to create an account in the Conftool system used to manage the conference participation.  If you need a formal invoice you are asked to pay via bank transfer:  credit card payments can only be confirmed by means of a receipt
Conference (no dinner) - Early Bird
€ 550
Conference with dinner - Early Bird
€ 640
Presenting authors
PhD students
Regular attendees
Conference (no dinner) - Late Registration
€ 650
Conference with dinner - Late Registration
€ 740
Presenting authors
PhD students
Regular attendees